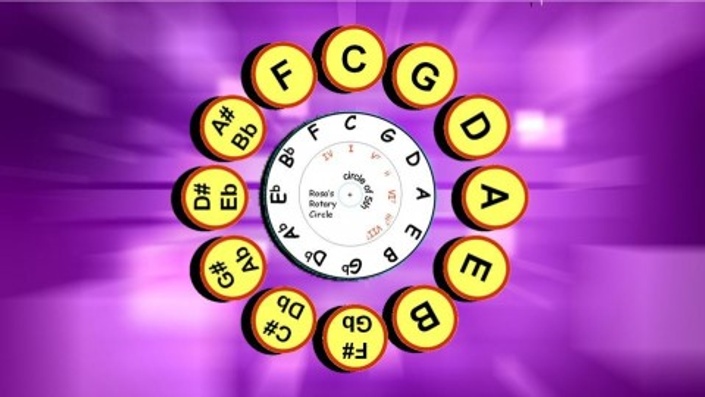 Fun DIY Circle of 5ths For Musicians - Piano, Guitar, Ukulele - Make this Musical Tool at No Cost
Watch Promo
OVER 2500 SUCCESSFUL STUDENTS HAVE ALREADY TAKEN MY ONLINE PIANO COURSE Since July, 2014 with 24 - 5 Star Reviews
Course Updated: June 17, 2015
The Circle of 5ths is a fascinating music tool for students studying piano, guitar, ukulele ... and as a matter of fact, all instruments studies!
Have you ever wondered what the letters mean?
Do you know how to make the Circle of 5ths come alive for you?
What is the difference between Circle of 5ths & Circle of 4ths?
How is it different from Circle of 12ths?
How is the CIrcle of 5ths related to the 12 tones in the span of an octave?
Are you often frustrated with the order of sharps & flats?
Here's the Secret: Turn the Static Circle of 5ths into a Dynamic Moving Circle. When you watch your circles move, you know exactly what I am talking about!
Learn how to let the 12 tones interact with each so that they can dance together and run harmoniously.
In this course, I will show you how to make a DIY Circle of 5ths so that you can use this musical tool wherever you go. If you take all my Circle of 5ths courses at different levels, you will be able to use this DIY Circle of 5ths to play by ear, to predict chord progressions, to write your own songs, to reharmonize songs with more sophisticated chords, to analyze popular standards.
The DIY Circle of 5ths is my GIFT to all musicians. I am charging a very low tuition fee of $5 that will become your best friend forever in your music journey!
Many musicians are now using my DIY Circle of 5ths and they take it along with their guitar wherever they go. This is a compact handy tool for you to use. Many of my students are taking it to the piano to play their favorite songs by Ear. Also ukulele players are in awe of where the Circle of 5ths can take them to pursue their music dreams.
Join Us!
You will also learn the following Magic Circle Tips:
Magic Circle Tip 1: Only 12 Letters - 7 Letters & 5 with Enharmonic Names
Magic Circle Tip 2: Make Your Circle Run
Magic Circle Tip 3: Put Key at 12 o clock position
Magic Circle Tip 4: One Circle corresponds to One Octave
Magic Circle Tip 5: Create your own DIY Circle - use CD
Magic Circle Tip 6: Circle does not move alphabetically like the piano
Magic Circle Tip 7: Chord Tones like to Move Up in Perfect 5ths
Magic Circle Tip 8: Chord Tones like to Move Up in Perfect 4ths
Magic Circle Tip 9: Chord Tones like to Move Up in Perfect 4ths
Magic Circle Tip 10: Magic Circle Reveals Key Signatures: Sharps & Flats
Magic Circle Tip 11: Right Side - Sharps
Magic Circle Tip 12: Left Side - Flats
Magic Circle Tip 13: Add 1 More
Magic Circle Tip 14: Let Your Circle Become Your Music FRIEND!
Join us and enroll into this course to make your Circle of 5ths. Let it come alive to you as a Dynamic Circle, and not a Static circle that you often see in books. This is very unique. And let's have fun together!
See you all inside,
Rosa
Your Instructor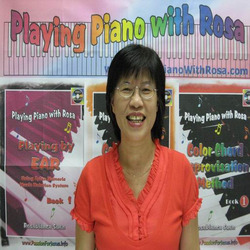 Rosa is the Pastor and Church Pianist for Christian Disciples Church in Hong Kong for over 30 years. She graduated from University of British Columbia and received her teaching certificate specializing in Chemistry and teaching English as a second language. She taught public schools in Canada for a couple of years and then went on to receive her Master's degree in Christian Theological Ministry at Ontario Theological Seminary in Toronto. She started full time ministry with her husband in 1989 and received intensive Pastoral Counselling and Discipleship Training at Christian Disciples Church. They were ordained to become church ministers as Pastors in 1996 in a local church in Tsuen Wan and have been ministering to this same congregation for almost 20 years now.
Over the years, she has gone on church missions to Mongolia, Sydney, Nepal, India and expedition trips to the Holy Lands: Israel, Greece and Turkey. Wherever she went, she found herself taking up the music ministry and became the church pianist for that church.
Many people at church have asked her to teach them to play piano. As a result of her passion in playing piano, she started developing piano courses initially for church pianists online since 2008. The piano courses are very unique because she was finally willing to share her Unique Piano Method: Color Chord Improvisation Method known as CCI. The CCI method works for all types of music: Gospel, Pop and Standards.
This Piano Method is easy, fun and creative that you learn to play piano not only from music score sheets, but to play chords from fake books and eventually to play by ear. Students all over the world have requested for courses to teach them play standards and popular songs. As a result she developed 3 Great Reharmonization Method courses for them to play from fake books and play by ear. The Dreamy Piano Techniques courses, especially the one on Autumn Leaves is her students favorite. She has a piano website at Learn Piano With Rosa where she continues to offer new courses to her students. She also holds piano workshops for her local students and train church pianists.
With her education and expertise in teaching, her students love her piano courses and found her piano lessons extremely easy and fun to play piano. They are highly motivated to play piano and playing piano had never been more fun and satisfying for them. You can read their testimonies on her website.
She is now an instructor at Udemy. Come and join her hundreds of students to play piano in a fun and creative way.
Course Curriculum
2. Magic Circle Tip 1: Only 12 Letters
Available in days
days after you enroll
3. Static Circle vs Moving Circle
Available in days
days after you enroll
Frequently Asked Questions
When does the course start and finish?
The course starts now and never ends! It is a completely self-paced online course - you decide when you start and when you finish.
How long do I have access to the course?
How does lifetime access sound? After enrolling, you have unlimited access to this course for as long as you like - across any and all devices you own.
What if I am unhappy with the course?
We would never want you to be unhappy! If you are unsatisfied with your purchase, contact us in the first 30 days and we will give you a full refund.