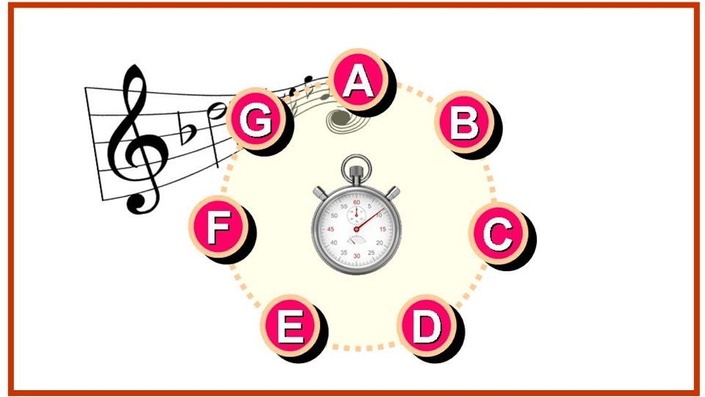 Read Music Starter Course: Fun Music Games - At what speed do you read music notes?
Fun Starter Music Game: Take this test to find out the speed of your music note reading? Treble Clef? Bass Clef? Both?
Watch Promo
Read Music Starters Course: Fun Music Games - At What Speed do you read music notes?

Listen to what the students are saying about this course:
By Greg Bailer
Good confidence builder for someone who has played by ear for 40 years and never been able to sight read. Treble Clef is much easier than the Bass Clef, but the tips and hints balance the efforts to master both. I used index cards with one note each as flash cards to practice when away from the PC. Lunch break, etc. Works great!

__________________
By Leo M.C.
I have failed soo oomany times trying to read music and this course has helped me immensely to break many barriers. Although I had to ignore almost all use of the acronyms(thats how I learned them once when 20 years ago and it never worked, could never get out of the acronym FOREVER being stuck going from one letter to the next, no matter my efforts and belief I would get better, therefore dependent on the acronyms my brain could not seperate from what is happening for REAL. P.S trust me, some people just dont learn reading music BECAUSE those acronyms tricks), Rosa your different perspectives and exercices made the difference! allowing me to learn notes atlast, every single one of them seperately. thank you again, and see you in level 2 !

__________________
By Oli E.
As stated in the title, this is the second out of three installments for the course series. Just as I was in the initial installment, I remain impressed by Rose's breaking down each installment in seven logical modules, and making them manageable to study and price one module per day. The course teaches how to read notes written in the staff or leger lines using Treble and Bass clef reference points. In contrast with other methods, Rose's attack method is particularly useful to quickly visualize, recognize, and say out loud each note/pitch regardless of their position in the staff or ledger. In particular, I strongly recommend keeping pace with the one "module per day", regardless of how many breaks one takes to finish the module. However, whenever I felt that my focus was weaker I did not hesitate to drill again and again the excercices of the previous module or even repeated it bfore starting a new one.

___________________
By Barbara G
In this course you will learn to use visual recognition to read Bass and Treble music notes fast.There are tests and answers and a fun musical note game. This course will help you reach your musical goal as it has helped me.

If you want to improve your music note reading speed this is a good course to delve into. Lots of exercises and tests to help you determine your speed and how to improve. Reaching my musical goal with Rosa's course is speedy and fun.

________________________________________________________________________________________

Many music students are frustrated and struggle for years to learn read music notes accurately and with speed. Are you one of these people?

I have a program that will help you overcome your years of frustrations.
This is the time for you to learn to have fun & start reading music notes accurately and with speed.
For this reason, I created this course to MOTIVATE students to once again pick up this skill easily again.
Do you know what speed level you are at in reading music notes?
On July 10th, many students participated on a music game I set up for them in my blog and they have so much fun that they requested for more. So in response, I have created a course for them so that they can have fun playing these music game!
In my blog, I only had 4 videos for them to play around.
In this course, I have actually structured it to a learning process as they play these music games.
There is now a total of 3 Music Games for you to PLAY in this course!
The entire course is set up in such a way that you are going to have FUN playing these games and learn at the same time.
1. Speed Read Music Notes Fast - EASY
2. Speed Read Music Notes Fast - MEDIUM
3. Speed Read Music Notes Fast - DIFFICULT
Find out for yourself at what speed you are able to read music notes at the different levels.
************************************************
1. The Easy Level - Read only 3 Bass Clef Notes - G D A
a. Slow - 45 BPM
b. Walking Pace - 76 BPM
c. Moderate Speed - 92 BPM
d. Fast & Lively Speed - 120 BPM
e. Super Speed for the genius - 200 BPM
2. The Medium Level - Read 11 Treble Clef Notes: C D E F G A B C D E F
a. Slow - 45 BPM
b. Walking Pace - 76 BPM
c. Moderate Speed - 92 BPM
d. Fast & Lively Speed - 120 BPM
e. Super Speed for the genius - 200 BPM
3. The Difficult Level - Read 22 Treble & Bass Clef Notes
a. Slow - 45 BPM
b. Walking Pace - 76 BPM
c. Moderate Speed - 92 BPM
d. Fast & Lively Speed - 120 BPM
e. Super Speed for the genius - 200 BPM
********************************************************
Each Level has different tests for you to find out for yourself which level of difficulty you are able to handle!
Once you find out the level that you have difficulty in, you can use my demo video to practice on until you can name all the notes correctly!
You can then move on to the next level!
Have fun,
Rosa
Your Instructor
Rosa is the Pastor and Church Pianist for Christian Disciples Church in Hong Kong for over 30 years. She graduated from University of British Columbia and received her teaching certificate specializing in Chemistry and teaching English as a second language. She taught public schools in Canada for a couple of years and then went on to receive her Master's degree in Christian Theological Ministry at Ontario Theological Seminary in Toronto. She started full time ministry with her husband in 1989 and received intensive Pastoral Counselling and Discipleship Training at Christian Disciples Church. They were ordained to become church ministers as Pastors in 1996 in a local church in Tsuen Wan and have been ministering to this same congregation for almost 20 years now.
Over the years, she has gone on church missions to Mongolia, Sydney, Nepal, India and expedition trips to the Holy Lands: Israel, Greece and Turkey. Wherever she went, she found herself taking up the music ministry and became the church pianist for that church.
Many people at church have asked her to teach them to play piano. As a result of her passion in playing piano, she started developing piano courses initially for church pianists online since 2008. The piano courses are very unique because she was finally willing to share her Unique Piano Method: Color Chord Improvisation Method known as CCI. The CCI method works for all types of music: Gospel, Pop and Standards.
This Piano Method is easy, fun and creative that you learn to play piano not only from music score sheets, but to play chords from fake books and eventually to play by ear. Students all over the world have requested for courses to teach them play standards and popular songs. As a result she developed 3 Great Reharmonization Method courses for them to play from fake books and play by ear. The Dreamy Piano Techniques courses, especially the one on Autumn Leaves is her students favorite. She has a piano website at Learn Piano With Rosa where she continues to offer new courses to her students. She also holds piano workshops for her local students and train church pianists.
With her education and expertise in teaching, her students love her piano courses and found her piano lessons extremely easy and fun to play piano. They are highly motivated to play piano and playing piano had never been more fun and satisfying for them. You can read their testimonies on her website.
She is now an instructor at Udemy. Come and join her hundreds of students to play piano in a fun and creative way.
Frequently Asked Questions
When does the course start and finish?
The course starts now and never ends! It is a completely self-paced online course - you decide when you start and when you finish.
How long do I have access to the course?
How does lifetime access sound? After enrolling, you have unlimited access to this course for as long as you like - across any and all devices you own.
What if I am unhappy with the course?
We would never want you to be unhappy! If you are unsatisfied with your purchase, contact us in the first 30 days and we will give you a full refund.