Learn to Play Left Hand Piano Technique: Nostalgic 10th
Late Beginners to Intermediate - Step by Step Video Lessons to play Nostalgic 10 to
The Piano Lesson "Left Hand Piano Technique: Nostaligic 10th" trains all pianists to learn to play the Nostalgic 10th into the song "I've Got Peace Like A River" in Key of C and Key of F.
Day by day piano lessons are provided for 60 days so that you can focus on your practice everyday with a 1 to 2 minute video demonstration.
Once you are able to play a song thoroughly in the Key of C, you can learn to play the song in another key. This is to help students not to restrict their piano playing in the Key of C. The problems with many students is that they get stuck in only the Key of C.
I show you a step by step process to play the song in Key of F EFFORTLESSLY. You just need to have the piano tip to know what to concentrate so that you can practice very quickly and at ease.
The piano videos are there to help you experience the 'quickness' of the hands, ie. to play the Nostalgic 10th with ease and in a flowing manner. Once you understand the music theory and how to train your finger muscle memory in my guided piano lessons, you will 'drift into the flow' of piano playing that sounds professional in a very quick time.
In the next 2 months, you will be able to learn the 7 Easy Steps to playing Left Hand Nostalgic 10 flowingly to a song:
1. Play Left Hand Nostalgic 10th freely and in a flowing manner in Key of C.
2. Play Left Hand Nostalgic 10th freely and in a flowing manner in Key of F.
3. Play "I've Got Peace Like A River" in Key of C and F with music score.
4. Play "I've Got Peace LIke A River" in Key of C and F with Chords in Rhythmic Bars.
5. Play "I've Got Peace LIke A River" in Key of C and F by Ear.
6. Play "I've Got Peace Like A River" in Key of C and F in Slow Motion.
7. Play "I've Got Peace Like A River" in Key of C and F in Tempo in a flowing manner.
The piano lessons are structured in the following way:
You learn the LH pattern of Nostalgic 10th to Chords C, F, G, D in C Key.
You learn the LH pattern of Nostalgic 10th to Chords F, Bb, C7, G7 in F Key.
In the beginning stage, I show you how to play I've Got Peace Like A River with music score sheet. LH & RH coordination.
Then you learn the Rhythm of Left Hand Nostalgic 10th to see how the 'counting' fits into the bar when you play a Nostalgic 10th chord. LH & RH coordination.
You learn to play the song following music score.
You learn to play the song using chords and rhythm.
Finally you get to the stage of playing the song by ear paying attention to the chord progression sounds.
As a Bonus: You also learn how to end a song properly by using the Amen Chord Ending in the Key of C and in the Key of F.
Have Fun!
Rosa
******************************************************************************
Reviews from Students:
Each lesson is very clear, precise, and focused and videos very sharp and clear
This is worth much more than 5 stars - lessons & videos are to the point, i know exactly what to learn and I like it that I can come back here anytime to look up a specific lecture. I have taken Rosa's online courses but they are all hidden in my computer files. Sometimes they get lost when I change computers but with this course i get it for life and it is easy to use when I watch the videos and follow along when i play. Also we can chat as if Rosa is just sitting next to my piano bench. I also watched these videos in the park playing with my kids and waiting for them. I dont' need to sit in front of a computer to learn - very convenient for busy moms like me. Bravo Rosa! More Please!
Such a fun and great learning experience to learn piano
I have taken many piano courses from Rosa's website and her 7 secrets workshop with weekly emails interacting with her students, but this one is by far the best. She is there to answer my questions all the time. I just love her courses and this format works well for me. Her video clips are super and I can watch them at the piano and away from the piano while waiting for the bus. I love it. I love everything in this course. Rosa, you have a way to motivate me to learn piano and to enjoy my practice time. Coming in here and reading your lectures give me a lot of light bulb moments and I will be coming back here again and again. When is the next course? Your teaching really stands out from all the other internet piano courses - you make things easy for me to catch and your passion is contageous that I love playing piano again. This has been a fun experience for me. I now really have peace like a river when I play piano. Love the Nostalgic sound. Love the tip about the 2 octaves. Now I know how to make my piano playing sound better. MOve on from one octave. That's it! Great tip. Lots of value in this course. Not boring. I learn about life too through your teaching tips. Looking forward to what's to come.
Great Piano Teacher
Rosa is such a good teacher and this was a new way of learning for me. This course can be applied to any song and was so much fun to learn. I'm so happy I discovered her courses. Thanks Rosa!
Your Instructor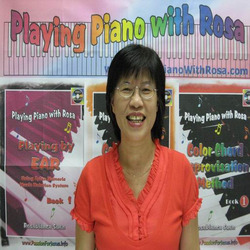 Hello, my name is Rosa. I am a pastor and church pianist for Christian Disciples Church in Hong Kong for over 30 years. I perform at my church at least twice a week and you always see me playing beautiful music at church on Fridays and Sundays. On the side, I also teach English as a hobby.
I graduated from University of British Columbia and received my teaching certificate specializing in Chemistry and teaching English as a second language. I taught public schools in Canada for a couple of years and then went on to study theology at Ontario Theological Seminary in Toronto. I received my Master's program in Christian Theological Ministry and started full time ministry with my husband. Our calling as pastors and missionaries brought us to deeper intensive Pastoral Counselling and Discipleship Training at Christian Disciples Church. Presently we pastor together in a local church in Tsuen Wan and have been ministering to this same congregation for almost 20 years.
Over the years, we have gone on missions to Mongolia, Sydney, Nepal, India and expedition trips to the Holy Lands: Israel, Greece and Turkey. Wherever we went, I found myself taking up the music ministry and became the church pianist for that church. It has been a wonderful experience for me to serve not only as a pastor but as a church pianist in the music ministry.
As a result of my passion in playing piano, I started developing my piano courses online since 2008. The piano courses are very unique because I was finally willing to share my unique piano method called: Color Chord Improvisation Method known as CCI. This piano method is easy, fun and creative that you learn to play piano not only from music score sheets, but to play chords from fake books and eventually to play by ear. You are welcome to visit me online at my piano website at Learn Piano With Rosa: http://www.LearnPianoWithRosa.com. I sometimes hold piano workshops for my students and train church pianists.
Because of my education and expertise in teaching, my students love my piano courses and found it easy and fun to play piano. Ever since teaching piano online in 2008, I have met hundreds and hundreds of students all over the world joining my courses. You can read their testimonies on my website. They have given me so much joy as I watch their piano dreams come true.
For this reason, I want to make my courses more and more available on the net so that it is easy for my students to access my courses on their mobile devices and tablets. Come and join my hundreds of students to play piano in a fun and creative way.
Enjoy your piano journey with me as much as I have created these innovative online piano courses for you.
Class Curriculum
#1. Introduction
Available in days
days after you enroll
#2. Music Score Sheet - C Key & F Key - I've Got Peace Like A River
Available in days
days after you enroll
#3. Work Out The Chord Chart - I've Got Peace Like A River
Available in days
days after you enroll
Frequently Asked Questions
When does the course start and finish?
The course starts now and never ends! It is a completely self-paced online course - you decide when you start and when you finish.
How long do I have access to the course?
How does lifetime access sound? After purchase, you have unlimited access to this course for as long as you like - across any and all devices you own.
What if I am unhappy with the course?
We would never want you to be unhappy! If you are unsatisfied with your purchase, contact us in the first 30 days and we will give you a full refund.