The Magic Circle of 5ths Level 1 - Circle of 5ths Secret Tips Fully Revealed - Piano Guitar Ukulele
Learn Hot Tips to Fully use Magic Circle of 5ths Regarding Music Theory & Harmony - Piano, Guitar, Ukulele, Violin, etc
Enroll in Course
OVER 2000 SUCCESSFUL STUDENTS HAVE ALREADY TAKEN MY ONLINE PIANO COURSE Since July, 2014 with 24 - 5 Star Reviews
==============================================
Review from Sam: Revolutionary way to learn chord progression!
Already knew circle of 5ths when I first learned theory, but didn't know that it also can be used to chord progression for every key.
Rosa structured the whole course in such a detail where it takes you from a player who can't play without score to a player who can start playing simple songs by ear. But what is more important is that you can advance further from there by playing in different keys, exploring more advanced chords using her concept.
Even if you are an advanced player, I think this course still can help you build a solid foundation in understanding the chord progression in more details.
Highly recommended!
----------------------------------------------------------------------------
Review from Ángel Candelaria: Very Useful
A great resource for both students and music teachers. HIghly recommended!
------------------------------------------------------------------
Review from Barbara: Circle of 5th's really is magic for learning!
This course is so full of information it will keep you busy for awhile. The Magic Circle has helped me learn Key Signatures, the order of Sharps and Flats, Roman Numerals & Chord progressions. There is a Chart in the course that is helpful also. I loved the exercises which helped me retain the information. Best course on the Circle of Fifths I have ever encountered. Quality course.
========================================================
The Circle of 5ths is a fascinating music tool for students studying piano, guitar, ukulele ... and as a matter of fact, all instruments studies!
Have you ever wondered what the letters mean?
Do you know how to make the Circle of 5ths come alive for you?
What is the difference between Circle of 5ths & Circle of 4ths?
How about learning a simple formula to find all the scale tones of all 12 Keys!
Use my trick to quickly identify the sharps & keys of 12 keys w/o calculation!
Learn to know the Circle of 5ths like reading the time on the clock!
Learn the 2 Circles Trick to find Chords I, IV, V7 of all 12 Keys!
Learn a visual concept to find out the 7 diatonic chords of all 12 Keys!
Learn all 5 Secondary Dominant Chords of all 12 Keys!
Learn the great value of 6 Dominant Chords in a song!
Quick way to see all the 12 Important Chords to harmonize any songs!
Follow simple formulas to play by ear using the Circle of 5ths to guide you.
You will learn many of the chord progressions of popular / standard songs
You will eventually learn to write your own songs using the Circle in any Key you wish.
Here's the Secret: Turn the Static Circle of 5ths into a Dynamic Moving Circle. When you watch your circles move, you know exactly what I am talking about!
Learn how to let the 12 tones interact with each so that they can dance together and run harmoniously.
Learn all my Magic Circle Tips (from my 35 years of music journey) so that you can make full use of the Circle regarding music harmony in the next 5 HOURS.
In this course, I will even show you how to make a DIY Circle of 5ths so that you can use this musical tool to practice all your piano techniques.
===============================================
This is a Comprehensive Course coverimg Music Harmony - Basic to Advanced!
Even Advanced Music is made EZ for you to understand in the presentation!
You are going to see PATTERNS & Music Harmony in ONE FLASH!
152 Lectures + 4 Hours of Video
28 Topics Covered
12 Songs Analysis using Circle of 5ths
7 Key Exercises on the Circle of 5ths
15 Chord Progressions from the Circle of 5ths
52 Magic Circle Tips
14 Bonus Videos
+++++++++++++++++++++++++++++++++++++++
About Rosa's Piano Online Courses in Udemy:
Over 2000+ very happy students already in my Udemy classes
See the 5 Star Reviews from VERY satisfied students
Zero Refunds so far!
You get free lifetime access
All videos are at your finger tips to watch anytime & anywhere
All future extra lectures and upgrades are always free
Unconditional Udemy 30 day money-back guarantee and that's my personal promise to your success!
Join this happy family of students & enroll into this course
____________________
The Following Main Topics are covered in the course:
1. My Circle of 5ths Journey
2. Magic Circle Letters
3. Static Circle vs Dynamic Circle
4. Crack the Puzzle: How are the 2 Circles different?
5. The Magic Moving Circle
6. Know the 12 o' clock position
7. How will you write the 12 Tones?
8. Pattern of Magic Circle Movement
9. Circle Reveals all 12 Key Signatures
10. Circle Gives The Order of Sharps and Flats in Key Signatures
11. Magic Formula to Get 7 Scale Tones of all 12 Keys
12. Magic Circle Numerals: Basic Chords for all 12 Keys - I, IV, V7
13. Magic Circle Reveals 7 Diatonic Chords - 7th Chords
14. Roman Numerals for 7 Diatonic Chords
15. Minor 7 Chords Movement - ii7, iii7, vi7
16. Create your Own Musical Tool: Circle of 5ths
17. Magic Circle - Significance of Dominant 7th Chords
18. One primary dominant chord in each key
19. 5 secondary dominant chords in each key
20. A total of 12 dominant chords in music
21. Songs have both primary & secondary dominants in chord progressions
22. How Secondary Dominant Chords are derived from
23. 2 Roman Numerals for Secondary Dominant Chords
24. Learn the Trick to only One Roman numeral notation for secondary dominants
25. Roman Numeral Template for Secondary Dominants
26. Capital vs Small letters
27. Secondary Dominant Chords in all 12 Keys
28. Create 2 Circles to see everything in ONE Flash
+++++++++++++++++++++++++++++++++++++++++++++++
Application: 12 Songs Analysis using Circle of 5ths:
1. Twinkle Twinkle Little Star
2. You are My Sunshine
3. Amazing Grace
4. Hey Jude
5. Have Yourself A Merry Little Christmas
6. Heart and Soul
7. Try to Remember
8. Tennessee Waltz
9. We Wish You A Merry Christmas
10. Home On the Range
11. Five Foot Two
12. My Way
+++++++++++++++++++++++++++++++++++++++++++++++
7 Exercises in the Circle of 5ths:
1. Find all 12 Scale Tones of 12 Keys in One Flash
2. Find all Sharps & Flats of 12 Keys In One Flash
3. Find all Basic Chords in One Flash
4. Find all 7 Diatonic Chords in all 12 Keys in One Flash
5. Find all Dominant Chord movement in One Flash
6. Find all V7 to I Chord Progression in One Flash
7. Find all 5 Secondary Dominant Chords in all 12 Keys in One Flash
+++++++++++++++++++++++++++++++++++++++++++++
15 Chord Progressions:
1. I - IV
2. IV - I
3. I - V7
4. V7 - I
5. I - V7 - I
6. I - V7 - I - IV - I
7. I - IV - I - V7- I
8. ii7 V7 I
9. vi7 ii7 V7 I
10. iii7 vi7 ii7 V7 I
11. II7 V7 I
12. VI7 II7 V7 I
13. III7 VI7 II7 V7 I
14. VII7 III7 VI7 V7 I
15. I - I7 - IV
+++++++++++++++++++++++++++++++++++++++++++++
52 Magic Circle Tips
Magic Circle Tip 1: 12 Unique Tones
Magic Circle Tip 2: Make Your Circle Run
Magic Circle Tip 3: Home Chord at 12 o' clock
Magic Circle Tip 4: 12 Tones Correspond to 1 Octave
Magic Circle Tip 5: Circle does not move alphabetically
Magic Circle Tip 6: Chord Tones like to Move up in Perfect 5ths
Magic Circle Tip 7: Chord Tones like to Move up in Perfect 4ths
Magic Circle Tip 8: Up in 5ths and Down in 4ths at the piano
Magic Circle Tip 9: Easy to Identify the Sharps & Flats
Magic Circle Tip 10: Right Side - Sharps
Magic Circle Tip 11: Left Side - Flats
Magic Circle Tip 12: Add 1 More
Magic Circle Tip 13: Order of Sharps - Start at F
Magic Circle Tip 14: Order of Flats - Start at B
Magic Circle Tip 15: Clockwise for Sharps & counter clockwise for Flats
Magic Circle Tip 16: Add one Extra
Magic Circle Tip 17: Slash at 11 & 5 o'clock
Magic Circle Tip 18: No need to use charts anymore
Magic Circle Tip 19. Basic Chords (I, IV, V7 ) are together as a family
Magic Circle Tip 20: Chord 1 alternates between Chord IV & V7
Magic Circle Tip 21: Chord V7 resolves to I - Final Cadence
Magic Circle Tip 22: Amazing Grace Chord movement
Magic Circle Tip 23: Can predict chord progressions - Hey Jude
Magic Circle Tip 24: 7th Chords: IM7, ii7, iii7, IVM7, V7, vi7 vii dim 7
Magic Circle Tip 25: Minor 7 Chords - ii7, iii7, vi7 are side by side together
Magic Circle Tip 26: Use Template and no need to use charts
Magic Circle Tip 27: 1625 Minor Chord Movement
Magic Circle Tip 28: 1625 Repeating in Heart and Soul
Magic Circle Tip 29: 36251 in Try To Remember
Magic Circle Tip 30: Create Your Own Circle
Magic Circle Tip 31: Only One primary dominant chord in each key
Magic Circle Tip 32: New inner template for V7 to *
Magic Circle Tip 33: Only 12 V7 Chords in music
Magic Circle Tip 34: Secondary Dominant V7/V7
Magic Circle Tip 35: Secondary Dominant V7/ii7
Magic Circle Tip 36. Secondary Dominant V7/vi7
Magic Circle Tip 37. Secondary Dominant V7/iii7
Magic Circle Tip 38. Secondary Dominant V7/IV
Magic Circle Tip 39: 2 Roman Numerals for each secondary dominant chords
Magic Circle Tip 40: Primary Dominant vs Secondary Dominants
Magic Circle Tip 41: Secondary Dominant Chords Resolve Back to Diatonic Chords
Magic Circle Tip 42: Inner Template with Simplified One Roman Numeral
Magic Circle Tip 43: Difference in Capitals and small letters
Magic Circle Tip 44: All Secondary Dominants in Capital Letters
Magic Circle Tip 45: Template to see all secondary dominants in ONE flash
Magic Circle Tip 46: 5 Secondary Dominants for C Key
Magic Circle Tip 47: Have 2 Circles In Front of You
Magic Circle Tip 48: I - I7 - I Chord Progression
Magic Circle Tip 49 II7- V7 - 1 Chord Progression
Magic Circle Tip 50: VI7 - II7 - V7 - I Chord Progression
Magic Circle Tip 51: III7 - VI7 - II7 - V7 - I
Magic Circle Tip 52: Combining all the chord progressions in one song
Enroll into the course and I will see you in there,
Rosa
==========================================
More Feedback from students inside the course:
JudyRae Harbin
This moving circle such a BRILLIANT tool & worthy of mass production! Thank you Rosa!!You've done a thoroughly "absorbable and penetrating" job with it, as you always do!
Thank you so much for the magic moving wheel, , and for all your work!
Gratefully, JudyRae
------
Barbara:
Thanks Rosa for the instructions on making the Circle of 5th's.
I am learning in leaps and bounds with your courses. I am more motivated than I have been in the past to keep learning. It's fun now to watch you play and hope to one day be nearly as good.
Thanks Rosa!
You have given us so much information in this course and I see you are still adding more. I feel like I am in college and my Major is Music. :)
Your Instructor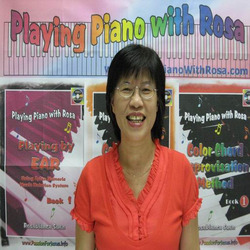 Hello, my name is Rosa. I am a pastor and church pianist for Christian Disciples Church in Hong Kong for over 30 years. I perform at my church at least twice a week and you always see me playing beautiful music at church on Fridays and Sundays. On the side, I also teach English as a hobby.
I graduated from University of British Columbia and received my teaching certificate specializing in Chemistry and teaching English as a second language. I taught public schools in Canada for a couple of years and then went on to study theology at Ontario Theological Seminary in Toronto. I received my Master's program in Christian Theological Ministry and started full time ministry with my husband. Our calling as pastors and missionaries brought us to deeper intensive Pastoral Counselling and Discipleship Training at Christian Disciples Church. Presently we pastor together in a local church in Tsuen Wan and have been ministering to this same congregation for almost 20 years.
Over the years, we have gone on missions to Mongolia, Sydney, Nepal, India and expedition trips to the Holy Lands: Israel, Greece and Turkey. Wherever we went, I found myself taking up the music ministry and became the church pianist for that church. It has been a wonderful experience for me to serve not only as a pastor but as a church pianist in the music ministry.
As a result of my passion in playing piano, I started developing my piano courses online since 2008. The piano courses are very unique because I was finally willing to share my unique piano method called: Color Chord Improvisation Method known as CCI. This piano method is easy, fun and creative that you learn to play piano not only from music score sheets, but to play chords from fake books and eventually to play by ear. You are welcome to visit me online at my piano website at Learn Piano With Rosa: http://www.LearnPianoWithRosa.com. I sometimes hold piano workshops for my students and train church pianists.
Because of my education and expertise in teaching, my students love my piano courses and found it easy and fun to play piano. Ever since teaching piano online in 2008, I have met hundreds and hundreds of students all over the world joining my courses. You can read their testimonies on my website. They have given me so much joy as I watch their piano dreams come true.
For this reason, I want to make my courses more and more available on the net so that it is easy for my students to access my courses on their mobile devices and tablets. Come and join my hundreds of students to play piano in a fun and creative way.
Enjoy your piano journey with me as much as I have created these innovative online piano courses for you.
Course Curriculum
#1 Introduction
Available in days
days after you enroll
#3 Magic Circle Reveals all 12 Key Signatures
Available in days
days after you enroll
Frequently Asked Questions
When does the course start and finish?
The course starts now and never ends! It is a completely self-paced online course - you decide when you start and when you finish.
How long do I have access to the course?
How does lifetime access sound? After purchase, you have unlimited access to this course for as long as you like - across any and all devices you own.
What if I am unhappy with the course?
We would never want you to be unhappy! If you are unsatisfied with your purchase, contact us in the first 30 days and we will give you a full refund.